This post is also available in:

Nederlands (Dutch)
Usenet is a large worldwide network that is used to share files through computers. It's the world's fastest and most reliable file sharing network. Originally Usenet was developed for exchanging messages in discussion groups. In the beginning, Usenet was used mainly by scientists who exchanged information. But quite quickly, the platform was also made suitable for the exchange of files. Meanwhile Usenet is widely used to download.
How does Usenet work?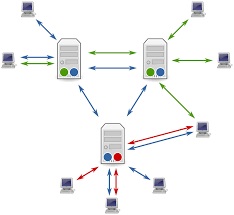 Usenet is a kind of big message board where you can read messages and download files. Everyone can put something on Usenet. You place a file or message in a particular newsgroup, after which it will be shared across the different servers with all Usenet users. There are many newsgroups with different topics. If your topic is not yet available, you can always start a new newsgroup. As a user, you can download any saved files at any time.
Retention time
There are two types of posts. Posts with text and binary posts. Binary posts include anything that is not text, such as images, video, audio and software. These binary files are placed in specific newsgroups. These newsgroups are called "Binaries". You can recognize these newsgroups by their name. The name of a Binaries newsgroup includes "alt.bin". The binary posts are encoded when stored on Usenet. To download Usenet files, you need software that enables you to download files.
Retention time
The uploaded files will not remain on the Usenet servers forever. The files have a certain retention time. The retention time depends on the server on which the files are placed. When the files have been on Usenet for a long time, they will be deleted to free up space for new files. In recent years, Usenet's retention time has grown exponentially. With many Usenet providers, retention time is now around 2500 days. This means any files uploaded today will be available for download for the upcoming 2500 days.
Usenet versus internet
Usenet existed for ten years before the Internet (World Wide Web) was invented. Both are global networks that share data. Usenet servers handle much more data traffic and have more data storage than internet servers. The amount of data circulating on Usenet servers is gigantic. There are also no advertisements on Usenet. Instead, you pay a certain amount per month to access the data on Usenet.