This post is also available in:

Nederlands (Dutch)
Ten years before the World Wide Web was introduced, there was already something similar: Usenet. Usenet is a giant, worldwide network where files and newsgroups are hosted. Usenet shares a number of similarities with the internet that we currently know. For instance, you need a browser (newsreaders or news clients) to get there, for example, SABnzbd or Spotnet. On Usenet people can read and post messages, which we call "articles".

Text messages and binaries
There are two types of messages on Usenet: a text message – which you can read – and a binary message, which is actually everything else. If you are looking for audio, video or software, then you are looking for a binary file. The files are not saved as a binary file, so you will not see all the ones and zeros when you look at such a message. Instead, you'll see "encoded text": a string of random other characters. Do not worry: the computer will be able to make sense of this code.
You can post a message in one or more categories, which we also call newsgroups. If you are commenting on someone else's message, your message will appear below theirs.
That sounds like an average forum on the internet, yet there are clear differences. There is no single central server where everything is stored and there is no administrator for a subject or Usenet as a whole. All information is spread over various servers that store and send messages to each other through so-called news feeds. As a user, you generally use a local server of a commercial party or a server of your internet service provider.
It's important to note that not everything is available for free on Usenet. Just like on the internet, some servers are freely accessible while others are not. The servers you pay for often have a lot more traffic they need to handle and much more data in storage.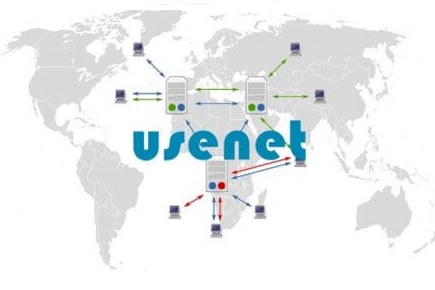 Usenet servers: What to look for when choosing a news server?
If you want to start using Usenet, you will need access to a server network first. Such access is generally obtained through a subscription with a Usenet provider. Subscribing to a proper Usenet pay server will generally cost you between 8 and 20 dollars per month, depending on your wishes. Decent Usenet providers with high quality server networks are for instance Tweaknews and Newshosting.
Retention time
When choosing a server, you need to keep a number of things in mind. It's important to know how long you will have guaranteed access to a particular file after it has been placed in a newsgroup. As mentioned before, Usenet servers have lots of data to process, which results in documents being erased at one point to create room for new files. The retention time of a Usenet server indicates how long an uploaded file will be stored before being erased.
Data limit
Besides that, it's important to keep an eye on how much data can be downloaded per month. With most Usenet providers you'll get between 5 and 50 GB of data per month, although there are also providers which don't impose a data limit.
Number of simultaneous connections
Furthermore, the number of connections is very important. For each provider, there is a maximum number of connections you can have at the same time through your account. This is important because most files you download will be split into sections, also called partitions. These partitions which collectively constitute a single complete file, are ideally be downloaded simultaneously. Downloading several partitions simultaneously is way faster than downloading them one after the other. However, for each partition you download, a separate connection is used. So the more connections you have at your disposal, the faster you can download all partitions which collectively form your movie, serie or software.
The news reader / client
To use Usenet, a client is required (also called newsreader). You can choose to download only binary content or to also read the textual content in the newsgroups. A client makes both possible. For Mac, for example, there is Unison, although it's not free. For Windows, there are multiple free options available, including GrabIt, Spotnet and Newsleecher.
If you only want to download binary content, you can also choose SABnzbd. This client is completely free, but does not let you read textual content.
Finding content
The next and last step is finding content to read and download. Over the past few years, a gigantic amount of data has been stored on Usenet, which has triggered the rise of several search engines. These search engines are like Google, but for Usenet. These search engines are called NZB sites. Decent NZB sites are for example:
If you've found what you're looking for on these search engines, they will create an NZB file for you to download. NZB files are very small files containing information for your Usenet news reader (client) on where to find the real file on Usenet. Simply put, you download the file that refers to a file on Usenet. Such a file will then be placed in your newsreader (NZB programme), for example SABnzbd. Your news reader will use the NZB file to locate and download the real file you were looking for from Usenet.
Upload content
You may also want to share your content on Usenet. For example, you can do this with NewzToolz. To post something, click on the "Newsgroups" tab and then "Post Large Files". Create your message and place it in a newsgroup. Once you've done that, your file will appear in Usenet search engines.
It may take a while before your file is visible in the search engines. This happens only when the file "propagates". This means that your server must call mine, to tell me there is a new file. My server then responds by saying that the file should be sent. However, there are thousands of servers within Usenet, so it takes a while before everyone can forward their files. However, within a few minutes, the file must appear in the search engines.