This post is also available in:

Nederlands (Dutch)
Usenet or Torrents, a tough choice, due to the various pros and cons. What is the best choice, and why? We'll explain how Usenet and Torrents work, and how both ways of downloading could facilitate your needs. And of course we'll present our final conclusion on which is the ultimate best choice: Usenet or Torrents.
Downloading: what do you need?
You can choose to download via either Usenet or Torrents. Whatever method you choose, there are some important factors to consider. For example, it's highly preferred to be able to download at high speed, especially if you have a fast broadband or fiber optic connection. Additionally, it is important that there is a large selection of downloads available. For this you need access to a large database with a diverse array of songs, movies and series, so you can actually find the files you're looking for.
For our comparison we also take a look at possible security issues that might arise when downloading with either Usenet or Torrents. Finally, we include the convenience of both methods and how much it will cost you. By taking all factors into account, we can reach our final conclusion. We can determine what way of downloading works best for you: Usenet or Torrents.
What is Usenet?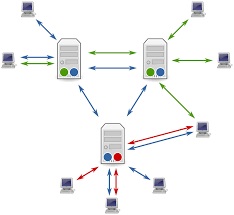 Usenet is originally an open forum with a collection of newsgroups. Academics used to exchanged ideas, ask questions and provide answers through Usenet. Originally Usenet was exclusively used to share written text, but with the rise of broadband internet Usenet also became suitable to add an exchange other types of files and media. It became easier for user to share so-called binary files (everything which is not plain text, basically). While the academics were originally predominantly interested in exchanging spreadsheets and academic articles, Usenet gradually became an excellent way to exchange movies, series and music. Today, Usenet is quite possibly the largest platform for sharing files, which are categorized in various newsgroups.
To download via Usenet, the following things are required:
A Usenet Client ( software for your computer)
Connection with a Usenet Service Provider
With most Usenet providers, files can be downloaded via a secure connection (SSL-encrypted).
Advantages Usenet
When making the choice for either Usenet or Torrents, it is wise to look closely at the advantages of both. Usenet is quite anonymous, thanks to the secure SSL connection. It's not possible for external parties to monitor what types of files you download. Even though Usenet was not developed originally to facilitate illegal downloading, it is a fact that some users specifically choose Usenet because the secure SSL-connection means copyright organizations cannot trace them. Additionally, when using Usenet you can be assured of very high download speeds. You can choose from an almost unlimited amount of movies, music files, games, eBooks and other content. The Usenet library really is enormous. Thanks to the secure connection, you do not have to worry about copyright claims. We'll summarize Usenet's advantages for you:
Secure SSL-connection (nobody will be able to monitor what you download).
Very high download speeds.
An almost infinite selection of available files.
Disadvantages Usenet
There are two components to Usenet which could be interpreted as a disadvantage.
First of all you will need to pay for a subscription with a Usenet provider. Such a subscription will generally cost you between $8 and $15 per month. But then you do have a subscription with lightning fast download speeds and no data limit.
Secondly, some people think Usenet is complicated. It does require some getting used to, and you will need to download and configure some software. With the proper instruction Usenet becomes very easy to understand; we have written a Usenet beginner's guide to help you get started.
What are Torrents?
And then we have Torrents. What are Torrents exactly they and how does this method of downloading work? Torrents are based on Peer-to-Peer exchange. Peer-to-peer means that users exchange files between themselves; a user can share his files with a whole network of other users. Together all users are responsible for exchanging files they own and make these files available to other users. With torrent networks you download a file directly of the computer from another user on the torrent network. In that case you are the downloader, and they are the uploader. At the same time, the torrent software generally makes you an uploader when someone else is looking for a file you happen to have on your computer. They will download the file directly from your computer.
To download via Torrent networks you will need:
A torrent site (the most famous example is The Pirate Bay)
Torrent software on your computer
With Torrents, files are not downloaded via a secure connection automatically. You will need to create this secure connection yourself, by using VPN software.
Recommendation: To download securely via Torrent networks you can use a Virtual Private Network (VPN). A VPN secures and encrypts your connection, ensuring that nobody will be able to intercept or monitor your data traffic. Your internet connection is anonymized and secured.

Excellent Dutch VPN. Fast, reliable and comes with a 30 day money-back guarantee.
Special deal: Get 30% off on the Unlimited subscriptions by using the discount code 'Privacy'.
Advantages Torrents
Torrents are very easy to use, which is one of the key benefits of Torrents. You can get started right away as soon as you have Torrents software on your computer. You do not need a subscription, because Torrents are free. Especially very popular files (e.g. certain popular movies or series) can be downloaded very quickly, because many people on the torrent network are sharing these files. On torrent networks you can find lots of TV shows, movies, music files and eBooks. We'll summarize the advantages of Torrents:
It's easy to download with Torrents.
Downloading Torrents is free.
Popular files can be downloaded quickly, as many users are sharing these files.
Disadvantages Torrents
There are also some disadvantages to downloading via Torrents.
As indicated before, there is no secure connection with Torrents. This means external parties will be able to monitor what kind of files you download. This brings forth privacy issues. If you use sites like The Pirate Bay to download, the authorities will be able to follow your every move.
Less mainstream or unpopular files can be very hard to find. If there are no other users online in the network who happen to own the file you are looking for, you are out of luck. Also, if only a few people have the file you are looking for, the download process could be rather slow.
Be careful what you place in your shared folder, because you will allow other Torrent users to download files from your computer. Make sure not to make sensitive documents publicly available.
Conclusion: Usenet or Torrents?
So, should you opt for a subscription with a Usenetprovider or is it better to download with Torrents? Allow us to paraphrase our findings:
Download speed
In the majority of cases, Usenet will be the clear winner here. It's possible to achieve download speeds of up to 10 Gbps, because you download from a professional network of well-maintained and optimized servers. With Torrents you are highly dependent on the speed of your peers, with whom you are exchanging files. With popular files there are usually many peers available and download speeds will be fine, but with less popular files the download speeds can be quite bad.
Selection of available files / media
A tie between Usenet and Torrents. With Usenet you will face a certain retention time, meaning that after a while files will be deleted from the servers to clear up space. With most Usenet providers, files are stored between 5 and 10 years after they were initially uploaded on the servers. During this period you will be able to download these files. Torrent networks don't work with retention time, but you will depend on other people having stored a certain file on their computer. This means that especially the more popular files are widely available with Torrents. Torrent networks cleanse themselves, as unpopular files disappear since people stop sharing those.
Security while downloading
Usenet is the winner here, due to the SSL-encrypted connection. Torrent traffic is unsecured, which jeopardizes your privacy. Usenet prevents other entities from monitoring your download behavior.
Recommendation:

Secure your internet connection with a VPN

. Whether you download with Torrents or via Usenet, with a VPN all your internet traffic will be secured with an additional layer of encryption.

Convenience and cost
Torrents win by a small margin. It's generally easier for people to comprehend how to download Torrents. And, for Torrents you don't need a subscription, meaning you can download for free.
Our verdict: we have a slight preference for Usenet. You will need a subscription for a couple of dollar per month, and getting used to Usenet will require a bit of effort, at least in the beginning. But it does allow you to download with incredible speeds and to stay safe while downloading. Added bonus: the Usenet library is huge.